High Profit Holiday Wreath Fundraiser
Get up to $10 profit per item sold! Holiday wreaths recall the nostalgia of a simpler time and make wonderful gifts. Their beauty, freshness and true balsam scent are sure to please anyone on your holiday gift list.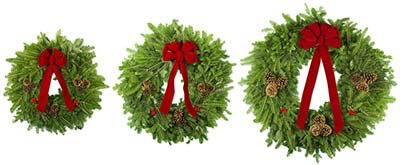 Choose our Holiday Wreath Fundraiser this fall! Sell Christmas wreaths to local businesses for a festive touch on Main Street or to your friends and neighbors.
Easy online fundraising with direct ship! With our easy online Christmas wreath fundraising program, your customers place their orders online. We ship orders directly to your customers or their gift recipients. You earn a profit for your organization while saving yourself from the hassle of distribution!
Bulk pickup available for local groups! Of course, if you're a local New England group and you prefer to pick up a bulk order, we can accommodate that as well. Your local customers simply order online and choose pickup instead of direct shipping at the time of ordering. With this option, your group is responsible for picking up the bulk order at our facility in Franklin, NH and distributing the pickup orders to your customers.
Three Rivers Wreath & Plant Company has been a leader in the Christmas wreath industry for over 30 years. Most Three Rivers wreaths are double-faced, and all are made of florist-quality greens making them the highest-quality fundraising wreaths available. Your group can earn up to $10 per item sold!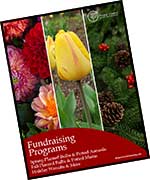 Download our fundraising info packet and calendar to get answers to frequently asked questions and learn more about this program.
Follow us on Facebook and Instagram. Or sign up for emails to stay up to date on the latest news from Three Rivers Wreath & Plant Co.!
Get Started Today!
Only use this form if you intend to hold a fundraiser with Three Rivers. If you are only requesting information, please use our information request form instead.
The deadline to sign up for a 2023 Holiday Wreath Fundraiser is October 12 for full line with local pickup or November 10 for direct ship only.