High Profit Holiday Fundraising
Get up to $10 per item sold! Holiday Wreaths recall the nostalgia of a simpler time and, make wonderful gifts! Their beauty, freshness and true balsam scent is sure to please anyone on your holiday gift list.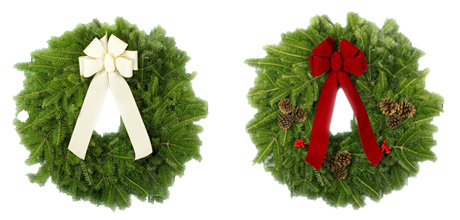 Choose wreaths as your next fundraising product! Sell them to local businesses for a festive touch on Main Street or, to your friends and neighbors. Wreaths can be shipped throughout the continental U.S. or picked up by local groups at the 3RWC facility, located in Franklin, NH.
3RWC has been a leader in the wreath making industry for over 30 years. A 3RWC wreath is double-faced and made of florist-quality greens making them the highest-quality fundraising wreath available. Your group can earn up to $10 per item sold!