See how easy online fundraising is with Three Rivers
Our fall bulb and potted mums flower fundraiser is an excellent choice to raise funds for schools, sports teams, scout troops, booster clubs, animal rescue groups, nonprofit organizations, and more! Many organizations return to Three Rivers each year for their fall flower fundraising.
Three Rivers makes Fall Bulb and Potted Mums Fundraising easy!
Some advantages of choosing Three Rivers Wreath and Plant Company for fall bulb flower fundraising include:
Earn up to 50% profit
NO minimum order requirement
Sell online with a FREE website landing page for your group
Free marketing templates and expert advice
Hold a fundraiser for as few as two weeks
We offer two different programs: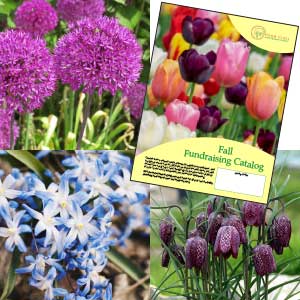 Direct Ship Fall-Planted, Spring-Blooming Bulbs Flower Fundraising

Earn 50% profit on each package of flower bulbs sold
NEW! Earn 20% profit on each seed kit or non-bulb direct ship item sold
Your customers order online
Orders ship directly to your customers
Flat shipping charge of $10 per bulb order and $8 per seed kit and/or non-bulb direct ship order—encourage your supporters to combine an order with coworkers, friends, or family members to save on shipping
Available to any group within the contiguous United States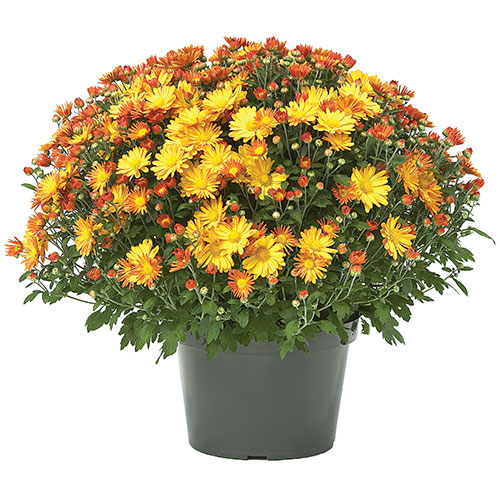 Full Line Flower Fundraising Including Potted Mums

Available to New England groups only
Customers can order mums in 8.25″ pots in a choice of five different colors
Earn $3.00 profit on each potted mum ordered
Your customers order online
All potted mums ordered must be picked up in Franklin, NH by representatives of your group
Your group is responsible for distribution of potted mums to your customers
Your fundraiser also includes the direct ship bulbs program outlined above
Contactless Fundraising
Bulb fundraising can be completely contactless. Promote your fundraiser digitally through your website, email, social media, or even through a good old-fashioned phone call. Your supporters place their orders online and we handle the direct shipping to them. We'll email you a final report of the sales and send you a profit check via U.S. mail.
Potted mums fundraising can be contactless or done with safe physical distancing. Download our fundraising info packet for complete details.
Request more info and sign up!
Our fall bulb and potted mums flower fundraising program runs from August 1 through late September. Bulbs ship in early October, and potted mums are available for pickup in mid September. Sign up now and get started on planning your fundraiser!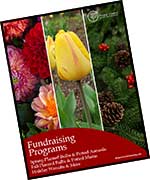 Download our fundraising info packet and calendar to get answers to frequently asked questions and learn more about this program.
Follow us on Facebook and Instagram. Or sign up for emails to stay up to date on the latest news from Three Rivers Wreath & Plant Co.!