Spring Bulb, Fall Bulb, and Christmas Wreath Fundraising Programs from Three Rivers
Enjoy three seasons of profitable fundraising each year with these easy online fundraising programs from Three Rivers Wreath and Plant Company. For years, churches, schools, scout troops, youth sports teams, and animal rescues have been raising funds with us.
All of our fundraising programs feature:

NO minimum order requirement  |  Free website landing page for your group  |  Free marketing templates  |  Online ordering
Plus, our direct-ship fundraisers are completely contactless!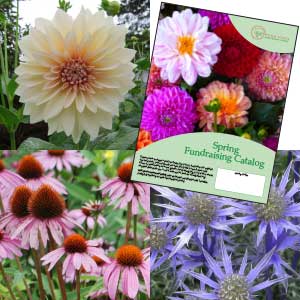 Spring Bulb Fundraising
Direct ship bulbs for planting in spring, blooming in summer
Potted annuals available for New England groups
Up to 50% profit

Fall Bulb Fundraising
Direct ship fall-planted, spring-blooming bulbs
Potted mums available for New England groups
Up to 50% profit

Holiday Wreath Fundraising
Direct shipping available for most items including 22 inch decorated wreaths, garland, centerpieces, and more
Additional items available to New England groups for pickup only
Up to $10 profit per item
Our holiday Christmas wreath fundraising program is our longest running. A wide variety of organizations have sold our Christmas wreaths to raise funds for many years. Their supporters look forward to the fundraiser each year and often purchase our wreaths to give as gifts.
In more recent years, we began offering additional spring and fall fundraising programs. Our spring program includes direct ship bulbs, tubers, and bare roots. Your supporters plant these in the spring and enjoy beautiful blooms all summer long. Seed kits may also be available. Local New England groups may also choose to include mixed-variety potted annuals for springtime fundraising, just in time for Mother's Day.
Our fall bulbs and potted mums program is offered in August and September. Fall-planted, spring-blooming bulbs are available for direct shipping to your buyers. For local New England groups, potted mums are also available for fundraising.
Follow us on Facebook and Instagram. Or sign up for emails to stay up to date on the latest news from Three Rivers Wreath & Plant Co.!