Spring bulbs are shipping!
We're pleased to announce that spring bulbs are shipping! If you placed an order with us through an organization's spring fundraiser, you may have already received your bulb order or you will be receiving it soon. We expect spring bulbs shipping to be completed by May 14.
Tracking your spring bulb order
You will receive an automated email from FedEx when your spring bulbs order ships. The email includes a tracking number so you can check on delivery status. If you don't receive the shipping notification email, check your junk or spam folder in your email for the message. Generally it can take from 5 to 10 business days for the package to arrive.
What to do when your spring bulbs arrive
With every order, we include general bulb care and planting instructions. If your package is missing the instruction sheet, or if you wish to have more detailed specifications for each type of plant, we have detailed bulb planting instructions available for download.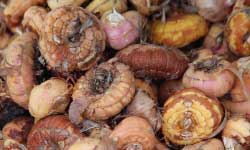 Fall bulb fundraising is coming soon!
We have finalized the details of our fall 2021 bulb fundraising program. You can request information to learn more. Or to sign up, please fill out a registration form. We'll begin setting up landing pages in mid to late July and will email you complete instructions once your landing page has been set up.
Stay in touch!
Want to know what's new with Three Rivers Wreath & Plant Company? Then follow us on Facebook and Instagram. Or sign up for emails to stay up to date on the latest news from Three Rivers Wreath & Plant Co.!