How do I track sales to participants?
Do you need to track sales to participants of your fundraising group? Are your members raising funds for a competition, class trip, or special event? Sports teams, scout troops, and school clubs sometimes use our participants feature to track sales. By default, our fundraisers are set up without individual participants. However, if you need to track sales to each participant, we can set up your fundraiser that way instead.
Here's how it works:
When you register for a fundraiser, mark "yes" on the form question that asks if you need participants set up.
Email us a list of participant names after you submit the registration form.
If you have requested participants to be set up but have not sent us a list of names, we will contact you for that information.
Once we set up your fundraiser and participants, we will email you a list of individual participant links and codes.
Instead of using an overall group link or code, your supporters will use individual participants' links and codes to reach their landing pages.
Please note that there is no way for your supporters to look up a participant in your fundraiser – the group or the participant needs to provide the participant links or codes to your supporters.
Participants do not have administrative access to your fundraiser, only the person managing your group's fundraiser can access and edit your fundraiser.
How to view participant information:
Log into your Three Rivers fundraiser admin account.
Click the "Manage" button next to your current fundraiser.
Scroll down past the fundraiser details to see the list of your participants with their codes, links, amount raised, and individual goal.
You can click the "Edit" button next to any participant to change their goal if you wish.
You can also click "Create a new participant" to add participants yourself; however, we recommend you allow us to set them up for you. Participant links and codes will only work if we have set up your fundraiser to have participants.
Below is an example of the Participant List on the Fundraiser Details screen. You can track sales to participants and check their progress.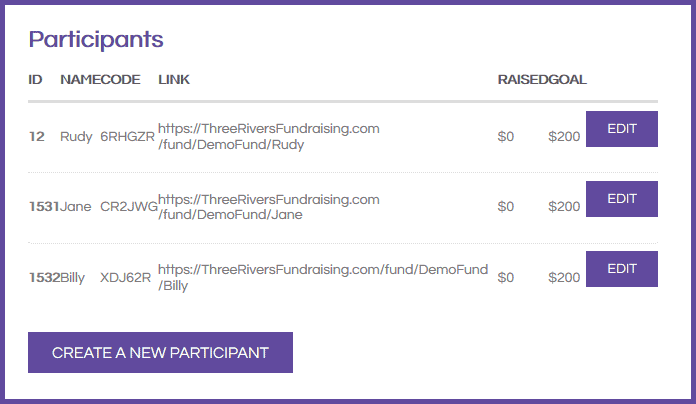 Additional fundraising goal display options available:
When your fundraiser has participants, we can display funds raised and goal amounts in different ways.
You can set individual goals for each participant, and we can set your fundraiser to show how much that participant has raised toward their individual goal.
You can set only a group goal instead of individual participant goals, and we can set your fundraiser to show how much the participant has raised toward the group's overall goal.
We can also set your fundraiser to show only the total raised by a participant or the overall group, without showing a goal amount.
Stay in touch!
Want to know what's new with Three Rivers Wreath & Plant Company? Then follow us on Facebook and Instagram. Or sign up for emails to stay up to date on the latest news from Three Rivers Wreath & Plant Co.!