Holiday Wreath Fundraising and More from Three Rivers
Get Started Today!
888-934-5999
Easy Fundraising Programs from Three Rivers Wreath & Plant Company

Spring Bulbs and Plants Fundraising
February – May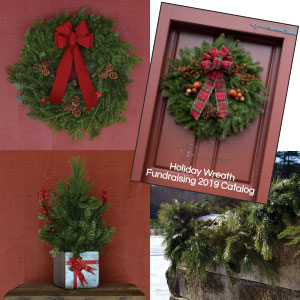 Holiday Wreath Fundraising
October – December
Look to Three Rivers Wreath & Plant Company for easy wreath and plant fundraising for every season. Your school, sports team, pet rescue, dance studio, church, historical society, choral group, community garden, non-profit or other organization can reach its fundraising goals with our variety of fundraising programs throughout the year. In springtime, raise the funds you need through our Spring Bulbs and Bare Roots fundraising program and earn up to 50% profit on each item sold! Looking for a fundraising idea when school starts in the fall? Our Fall Bulbs fundraiser may be the perfect fit, and will earn you up to 50% profit on each item sold. In October and November, we offer our proven Holiday Wreath fundraising programs with both direct ship within the contiguous U.S. and local pickup for New England based groups. No matter which fundraiser program your group chooses, you'll be provided with a free online landing page where your supporters can conveniently place their orders, and your customers will be thrilled with the high quality of the products they receive.