White Hardy Ground Orchid – New for Spring 2020
Featured New Item: White Hardy Ground Orchid
The White Hardy Ground Orchid (botanical name: Bletilla striata 'Alba') is an easy-to-grow terrestrial orchid. It's an excellent choice for flowerbeds, borders, and rock gardens. You can also grow this hardy orchid in a container!
Hardy orchids generally grow to about 12″-18″ tall. This variety bears white blooms in late spring to midsummer. If you have problems with deer eating your plants, you'll notice that they leave this one alone!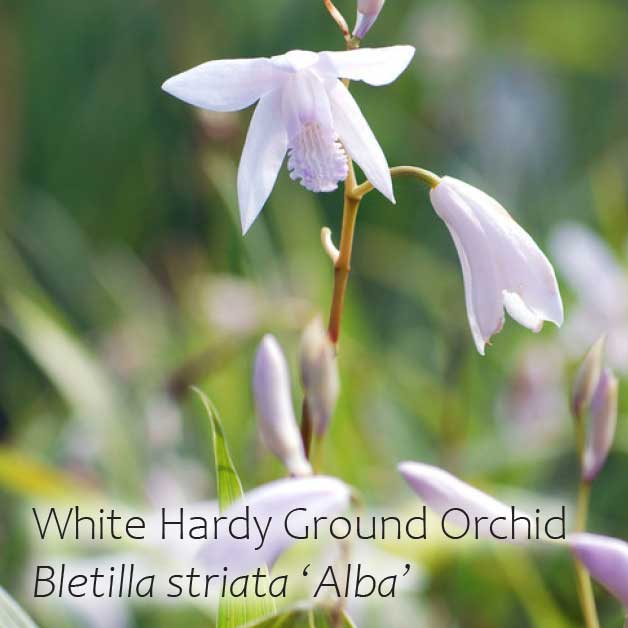 Recommendations
Choose a location with partial shade for best results. If you're in a hotter climate, make sure the plant is shaded in the afternoon.
Plant 2″ to 3″ deep and 4″ apart. Be sure to allow some room for the plants to naturalize and spread out over time.
Keep your White Hardy Ground Orchid plants well watered, but well drained. Be sure there is no standing water around the roots for too long.
This plant is hardy in zones 5 through 9. However, in zone 5 we recommend mulching prior to winter for added protection.
Need a spring fundraiser?
If your organization needs a fundraiser for the spring season, consider our Spring Bulb Fundraising program! There's no minimum order, no money up front, and you'll earn 50% profit on every package of bulbs sold. Request more information today.
Stay in touch!
Want to know what's new with Three Rivers Wreath & Plant Company? Then follow us on Facebook and Instagram. Or sign up for emails to stay up to date on the latest news from Three Rivers Wreath & Plant Co.!